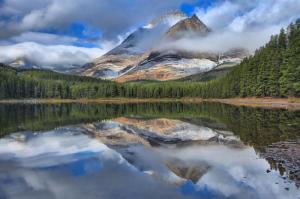 FOR IMMEDIATE RELEASE:

Conshohocken, Pennsylvania April 22, 2013

The Glacier National Park "Sunrise Surprise" Photo Taken By Adam Jewell At Fishercap Lake Wins Honorable Mention In The Annual Aperture Academy "Extraordinary Exposures" Photo Contest.


During the third year of his four year road trip to experience and photograph all 49 US National Parks in the lower 48 states, Adam Jewell of Conshohocken, Pennsylvania spent two weeks at the Many Glacier section on the East Side of Glacier National Park in Montana. The visit to the east side of Glacier National Park was during the first two weeks of October 2012. At this time in Glacier National Park facilities are scarce, the weather harsh and wildlife often abundant. Common wildlife sightings often include mountain goats, grizzly bears, black bears, big horn sheep, and moose. On the morning the award winning photo was taken, Adam set out on a frigid early morning hike to Fishercap Lake hoping to get...