Adam Jewell Art Collections
Shop for artwork from Adam Jewell based on themed collections. Each image may be purchased as a canvas print, framed print, metal print, and more! Every purchase comes with a 30-day money-back guarantee.
About Adam Jewell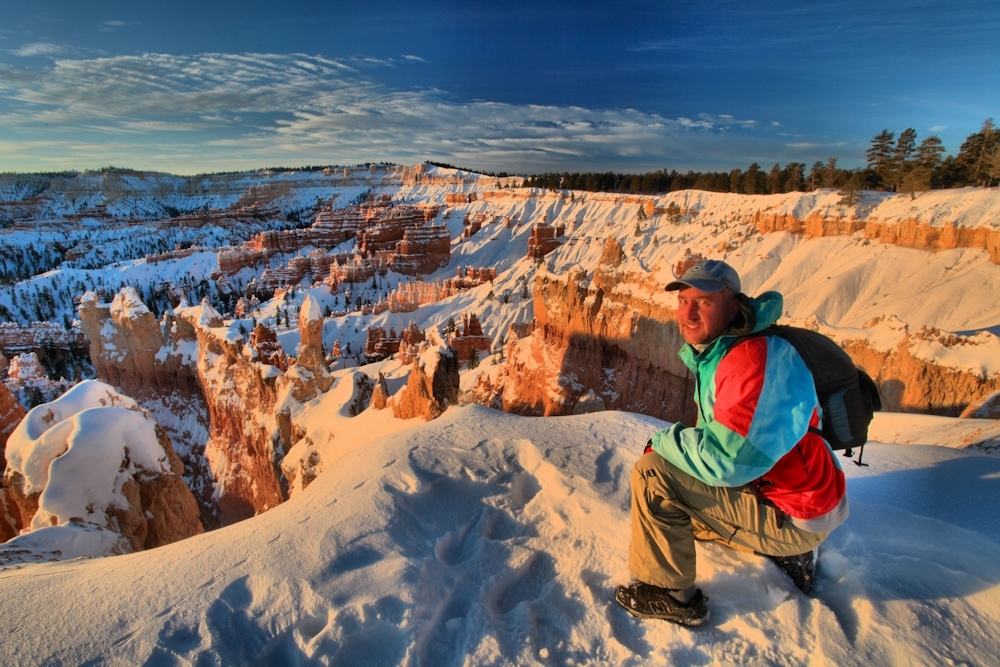 There comes a time in life when we wonder where we're going, what we're doing and if there isn't something more to life. Maybe that's a mid-life crisis of sorts. For me that crept up and hit at the age of 36. It had been creeping up for a while but I was 36 when I decided to take action. I had everything that is usually defined as "success" but I was miserable starting at a computer screen for 14 hours a day. I couldn't sleep at night and couldn't wake up in the morning. It was time to make a BIG change.

I grew up in an outdoorsy kind of household. Weekend camping, fishing, hiking and the occasional beach trips were the norm. I'm an Eagle Scout. At 16 I tried out for ski school and started teaching skiing while in high school and continued teaching while in college (Industrial Engineering at the University of Pittsburgh). Along with the ski instructor gig, I spent the college years bartending and had a 4-year Army ROTC scholarship out of which I bailed after the first year. Upon graduation I had no idea what I wanted to do so I had fun skiing and bartending for a couple years.

A .com job came after that and lasted about 6 months until the economy crashed. After 6 months I landed at a small online marketing agency just outside Philadelphia. My dream job, or so I thought. After a few years there I plateaued in the position of Director of Search & Affiliate Marketing. It was a smaller agency and there wasn't much room to grow. Along with the agency gig I got sucked into the world of affiliate marketing. At work I stared at spreadsheets and ensured Google got massive monthly checks from clients. I was so busy and so burned out I didn't do much. I didn't now what I wanted to do but I knew it wasn't that. Saving everything I could made it possible to make a break.

On my 36th birthday I decided it was time for a big change. I gave 3 weeks notice at the agency and quit. The original plan was to load up the car, drive out to Utah, ski Snowbird for two months in the spring and then head back to find another cubicle. On the recommendation of some friends in Utah I took a trip down to Moab to Arches and Canyonlands National Parks. My jaw dropped, my eyes teared up. That was at the Wall Street overlook at Arches. I'd never seen anything like that in person before. I was developing a crush on the national parks.

Once I got back to the Salt Lake area, I noticed Mammoth Mountain in California was going to be open for skiing every day until the 4th of July. After a little deliberation I bought their season pass, packed up the car, drove all night and watched the sunrise over Wholly, the Mammoth at Mammoth Mountain. The GPS was set to go to Mammoth and fortunately it got me there in one piece. I had nowhere to stay and spent the first night in my car, the second night in the Motel 6, and then found Royal Pines, a fancy old hotel that had been transformed into basic apartments and inked a deal to stay there. Out by Mammoth were Yosemite, Death Valley, Mono Lake, The Bristlecone Pine Forest and numerous other amazing sights.

When the stay at Mammoth came to an end (after extending it a few times beyond the end of ski season) I decided to wander home by way of Yellowstone, Teton, the Badlands and numerous other national parks. By October, I made it back to Philly. I had tickets for two Lady Gaga shows back in Philly that I missed by staying out on the road for so long but somehow it was worth it. She is amazing though!

Instead of looking for another cubicle when I got back I started planning a second road trip out west. I got an EPIC ski pass and planned to find a place to crash in Tahoe and ski there all winter. There were so many amazing national parks and other sights to see along the way I never made it to Tahoe. The national park crush that began in Utah was a full on love affair. I did make it to Mammoth to ski July 4th and plop down for a while at Royal Pines again. That road trip lasted 14 months. For a number of years after that I all but gave up skiing because who in their right mind would pay $200 for a litt ticket?

Between 2010 and 2019, each year I spent between 6 and 14 months on the road exploring, experiencing and of course photographing the national parks in the US and Canada. Can you imagine hopping in your car one day, being able to go wherever you want whenever you want with no one to answer to, nowhere you have to be and almost no responsibilities you have to attend to for up to 14 months? Can you imagine doing that ten times over ten years? It was pretty F*cking awesome!

Since I've never inherited a dime and had no one funding me, those road trips were paid for in large part through sacrifice. I sacrificed (a lot of) comfort for freedom and the opportunity to soak up the most incredible sights in North America on my own terms for as long as desired. Ever go a month without a shower, spend 6 (or more) months sleeping in nothing but a tent or your car, sleep in your car in Montana for 10 days when it dipped down to 10 below zero at night and go nurse a random collection of beers at the local bar nightly just for the heat before going off to the ice box to sleep, not actually lay down to sleep for a month in the Utah desert and wake up one day with your feet so swollen they wouldn't fit in your shoes? (Because you'd been sleeping in the front seat of your jam-packed car for a month and couldn't get the seat far enough back to lay flat).

There were a few scary times when I thought I might die. There was one day early on at Natural Bridges NM in Utah when I took a wrong turn down a canyon. The topography looked about right but as darkness fell, I knew I was going to spend an unplanned night in the desert. It was spring. The spring nights are cold. I was wearing shorts. I was 100% out of water and had no filter. I grabbed as much wood as I could and started a fire. I drank a TON of water out of bug filled stagnant pools in the sand in the canyon. I probably slept for about 15 minutes that night. I took a photo of myself by the fire thinking that might be the last photo I ever took.

I yelled, I screamed. There was no response. My heart raced but I knew I couldn't panic. I drank more of that nasty bug filled water but wasn't yet shitting my pants. On the way down the wrong way I'd taken lots of photos. I was able to look at those and figure out which canyon splits to take back to the main trail. After 5 or 7 miles I finally heard voices. Nobody believed I'd spent the night in the canyon. When I did finally get out of there, I stopped by the visitor center to tell my story. The ranger told me that a sign washed out where I took a wrong turn. The new one hadn't yet come in. It was not uncommon for people to take that wrong turn.

Sure, it was all pretty crazy but being able to wake up to something like sunrise at Moraine Lake in Banff for one, two, or even three weeks straight, hike The Wave in Arizona many times, tear up at first sight of the jaw dropping fall colors at Mt. Rainier, or backpack at Isle Royale with the moose and listening to the wolves howl all night made all those sacrifices worth it. The list is endless.

Whether you sleep in your car, a hostel, tent or the honeymoon suite at Econolodge for next to nothing, or drop $2,000/night somewhere like the Moraine Lake Lodge, you still see the same sunrise, sunset and everything in between. Heck, sleeping in the car can be so uncomfortable you're probably MORE likely to be up for sunrise. If there is something you want to experience, are you going to find reasons you can't do it or make it happen?

Hostels have been a frequent place to call home while on the road. Most of the time they were great but some were pretty crazy. The HI network in Canada is absolutely incredible. Pre-pandemic HI Canada had a "Wilderness Pass". Want to spend an entire winter (and more) in the Canadian Rockies in rugged accommodations in solitude with some of the most stunning Rocky Mountain landscapes at your doorstep? Perfect silence, solitude and sights that will bring tears to your eyes if the cold whipping wind doesn't do it first! Get that pass! Just be prepared to wake up to temps as low as 40 below zero when you step outside. Get familiar with propane heaters and lamps so you don't blow up the building. You do have to sign a waiver but there was one incident where someone did blow up a whole dorm building. Fortunately not while I was there.

In the US the network of hostels is a bit more rag tag. Some US hostels are awesome, some made sleeping in the car seem more attractive. The not so good ones make for good stories and laughs. Along the way Econologe became a go to lodging option when I wanted to splurge. When you get to the top tier in the rewards program, sometimes they give you a free upgrade to the Econolodge honeymoon suites. Who would have thought such a thing existed?

Once the multi-resort ski passes started coming out, skiing was incorporated into the mix and I've skied and photographed a large portion of the most amazing (and not so amazing) resorts all over the US and Western Canada.

Over the years you may have seen my work on the cover or internal pages of the National Park Foundation Calendars, in the National Wildlife Federation Magazine or on the NWF holiday cards someone sent you or you purchased from the NWF. Lots of images have been featured in the Instagram feed of the US Department of the Interior and elsewhere.

When the pandemic hit in 2020, I was heading west for what was planned to be the last extended national park/skiing road trip. That came to an abrupt end when the ski resorts closed on March 15th, 2020. It's been a rough couple years but hope to do one more killer trip in 2023 before calling it quits. With the Indy and Ikon ski passes in hand for 2023, it should be a killer year to call the finale so long as the North American west doesn't turn into one big flaming inferno, it still snows and WW III doesn't erupt..

When it's done, maybe I'll go out and seep in my car once in a while just for old time sake. What will the next stage of life bring? Who knows, but I'll be ready! It will be hard to beat the adventures of the last 10 years but I'm definitely looking forward to more comfortable sleeping arrangement moving forward.

Have any questions about prints? Just contact me through this site. There's likely a story behind every single one. If you are interested in licensing a particular photo, please send a link to the photo, the specifics of what you want to use it for and your BEST offer. What you see here is the result of years of work, hundreds of thousands of dollars in travel expenses, software, photo and computer equipment, endless nights with little to no sleep in order to be out before sunrise and stay out till well after sunset. With the exception of a few conservation organizations, nothing is available for free use or in exchange for "credit". My time is valuable and so is yours. It's just not productive to email back and forth and draw up a contract to find out someone wants a high res image for $25 or $50.